Ken Domik
, also known by his channel name
KBDProductionsTV
is a fellow Food Reviewer, and ally to Joey. He lives in Barry, Ontario. They've made multiple videos together, so it appears that they're both on good grounds with each other.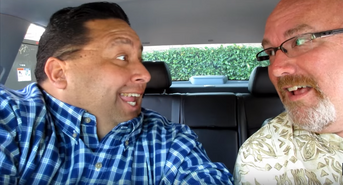 Video style
Edit
KBD's videos differ from Joey's quite a bit. While they both seem to follow the general food review style (intro, review, rating, closing), KBD's videos are much more edited than Joey's. On top of having a watermark, KBD also has his own rating system!

Rating System
Edit
Unlike Joey, KBD doesn't use a more traditional rating system. Instead of Joey's standard X/10, KBD uses a scale that goes from "Would NOT Recommend" to "Go Out And Get It NOW!" The scale also features the same cartoon that he uses for his YouTube profile, a drawing of his face.

Collaborations with Joey
Edit
In order of first to last, here is a list of every video that Ken and Joey have collabed on.
Video Title

Edit

Youtube Channel

Edit
La Super-Rica Taqueria Review with Joey from Joey's World Tour
KBDProductionsTV
Dec 1, 2014
La Super-Rica Taqueria Review with Ken Domik from KBDProductionsTV!
JoeysWorldTour
Dec 1, 2014
MOD Pizza "Mad Dog" Review with Joey in San Jose California
KBDProductionsTV
May 22, 2015
McDonald's 1/3 Pound Burger Review with Ken Domik!
JoeysWorldTour
May 22, 2015
McDonald's® Double Chicken Burger Honey Mustard Sauce w/JoeysWorldTour
KBDProductionsTV
Mar 18, 2016
McDonald's® Double Chicken Burger Honey Mustard Review w/KBDProductionsTV!
JoeysWorldTour
Mar 18, 2016
Carl's Jr.® 3-Way Bacon Burger Review with KBDProductionsTV!
JoeysWorldTour
Jul 29, 2016
Taco Bell Spicy Triple Double Crunchwrap with JoeysWorldTour KBDProductionsTV
KBDProductionsTV
Jul 30, 2016
Vlog: KBDProductionsTV & Joey Droning around Palo Alto, CA!
JoeysWorldTour
Aug 3, 2016