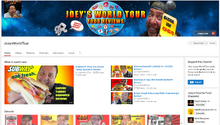 This is a list of videos posted on the Youtube channel JoeysWorldTour (Youtube).
Dates are listed as Year/Month/Day. Dates link to videos on Youtube.
Episode Types
Edit
Review: Joey reviews a food. Usually identified as "Joey's Super Kool Food Reviews".
Challenge: Joey does a challenge, usually involving food.
Vlog: Joey talking about various subjects. Usually titled "Vlogging with Joey".
Cooking: Joey demontrates how to cook something. Usually titled "Cooking with Joey".
Other: Videos that don't fit into any other categories. Includes Joey's travels to various locations and random stuff.
Intro Types
Edit
Red Laser: The first (but short-lived) regular intro. Red lasers shine in various directions while the text rotates.

Text: Joey's Presents Joey's Super Kool Food Reviews

Guitar Spin: A man wearing jeans, an untucked shirt, and a trilby hat plays guitar as the "camera" spins around him, while stars orbit him and various words fly around a yellow background.

Text: The main text at the end of the intro is "Joey's World Tour". The text flying in the background includes "Food Challenges, Chubby Bunny" and "Food Reviews, Pizza, Hamburgers".
One-time: Various intros used only once. Text for each intro is shown in the table below.
Title
Upload Date
Type
Time
Views
Intro
Fun Facts
A Cannery Row Seagull
2011/02/06
Other
1:47
None
Joey's first video!
HOW TO MAKE TACOS
2011/06/11
Cooking
2:15
None
First cooking video (not yet called "Cooking with Joey")
How to Make Rice Krispie Treats!
2011/07/05
Cooking
10:49
None
Powdered Doughnuts Food Challenge!...by Joey's World Tour
2012/07/18
Challenge
5:06
None
First of two surviving food challenges (the others have been set as private)
Lake Cunningham Skatepark: EPIC COOL BMX BIKE FLIP!
2012/07/28
Other
4:41
None
California Mission: SAN JUAN BAUTISTA!
2012/08/03
Other
3:24
None
The Nutella Food Challenge.."Hands Free!" ~ Joeys World Tour
2012/09/06
Challenge
5:08
None
The most viewed video on the channel with nearly half a million views. Second of two surviving food challenges after the others were set to private.
The Water Bottle Method For Separating Egg Yolks From Egg Whites!
2012/09/21
Cooking
2:05
None
The Typewriter!...Jerry Lewis #1
2012/11/01
Other
1:51
One-time: "Jerry Lewis' The Typewriter... A Tribute by Joey's World Tour!"
How To Make Homemade Mexican Salsa!
2013/01/25
Cooking
16:18
None
What a Wonderful World!
2013/01/25
Other
4:15
None
KFC Boneless Chicken REVIEWED!
2013/04/14
Review
5:27
None
Joey's first food review. This is where it all began!

First appearance of catchphrase "I'm back" (3:24).

Shoutout to Dawhiteboy503.

PIZZA HUT'S Crazy Cheesy Crust Pizza REVIEWED!
2013/04/15
Review
4:22
None
WENDY'S Flatbread Grilled Chicken REVIEWED!
2013/04/16
Review
5:07
None
In-N-Out Burger vs. Five Guys Burgers REVIEWED! #10
2013/04/18
Review
5:29
One time: "In-N-Out Burger Vs Five Guys. Joey's Super Kool Food Reviews. Subscribe"
First review titled "Joey's Super Kool Food Reviews"
Burger King Bacon Cheddar Stuffed Burger REVIEWED!
2013/04/22
Review
5:41
Red Laser
First time "I'm back" said at the beginning of the video (0:13)

Outro with flying arrows and photos.

Burger King's Pina Colada Smoothie REVIEWED!
2013/04/23
Review
5:35
Red laser
Joey drinks alcohol on camera. "Don't drink and drive."

Joey sings: "Escape (The Pina Colada Song)", "I'm in Hawaii," "This is the moment I've waited for".

Outro

Burger King's Chipotle Whopper REVIEWED?
2013/04/25
Review
6:35
Guitar Spin
Joey gets served the wrong sandwich. Might be the first time he calls viewers "gang".
Little Ceasars DEEP! DEEP! DISH PIZZA REVIEWED!
2013/04/27
Review
2:48
Guitar Spin
Joey has a camera person rather than using a tripod.

Might be first appearance of "good vittles."

CARL'S JR. Jim Beam Bourbon Burger REVIEWED!
2013/04/29
Review
5:40
Guitar Spin
Panda Express' SAMURAI SURF & TURF REVIEWED!
2013/05/02
Review
7:02
Guitar Spin
Begins with a shoutout to Daym Drops. Joey says "Thank you for your support and advice. You're the man."
Arby's KING'S HAWAIIAN ROAST BEEF & SWISS REVIEWED!
2013/05/06
Review
6:46
Guitar Spin
Joey sings: "Viva, Las Vegas", "Hawaii USA"

Joey shouts out to his haters. "You guys keep me going. I can always lose weight, but you'll always be ugly."

Mcdonald's EGG WHITE DELIGHT MCMUFFIN REVIEWED!
2013/05/06
Review
8:52
Guitar Spin
"Queso, that's cheese in...Spanish."

Joey rants about McDonald's. "Everybody else is on their game, and McDonald's is like trying to play catch-up." Joey tells McDonald's they should sell breakfast all day. "Come on, McDonald's. Come on!"

"I'm all about getting healthier and stuff."

Jack In The Box Pizza Bites REVIEWED
2013/05/08
Review
6:10
Guitar Spin
Jack In The Box's JUMBO BREAKFAST PLATTER REVIEWED!
2013/05/11
Review
3:44
Guitar Spin
Carl's Jr. Hillshire Farm® Smoked Sausage Breakfast Sandwich REVIEWED!
2013/05/13
Review
7:03
Guitar Spin
 Wendy's Bacon & Blue On Brioche REVIEW!
2015/02/03
Review
6:01
Logo & Globe
"Yeah I'm cool bud."