Daymon Scott Patterson, more commonly known as Daym Drops, which also happens to be the name of his channel, is a fellow food reviewer, and a friend of Joey. He is well known for helping popularize YouTube food reviews. Daym and Joey have been friends since 2013, but did not appear in a video together until August 2016.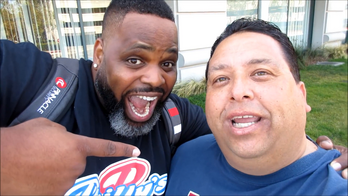 Videos with Joey
Edit
In order of first to last, here is a list of every video that Daym and Joey have collaborated on.
References
Edit
↑ Twitter.com, @DaymDrops
https://twitter.com/daymdrops/status/265693270611476480
↑ The Dr. Oz Show Website, 400-lb Fast Food Critic Reviews Dr. Oz's Drive-Thru Picks, Pt 1
http://www.doctoroz.com/videos/400-lb-fast-food-critic-reviews-dr-ozs-drive-thru-picks-pt-1
Ad blocker interference detected!
Wikia is a free-to-use site that makes money from advertising. We have a modified experience for viewers using ad blockers

Wikia is not accessible if you've made further modifications. Remove the custom ad blocker rule(s) and the page will load as expected.